Privacy has never been in such short supply.  There's one technology I've found essential to fighting back against big tech's prying and spying routine.   A VPN, or virtual private network, can be a very good idea for you to secure your internet connection, and it can be an effective way for you to protect your online privacy and security.
CLICK TO GET KURT'S CYBERGUY NEWSLETTER WITH QUICK TIPS, TECH REVIEWS, SECURITY ALERTS AND EASY HOW-TO'S TO MAKE YOU SMARTER
A VPN keeps others out of your personal and professional business
There are many VPN choices are available that can be installed on multiple devices, allowing you to use the VPN connection on all of them.  Some VPN services also have mobile apps that can be downloaded from the App Store or Google Play, making it easy to use a VPN on your cell phone.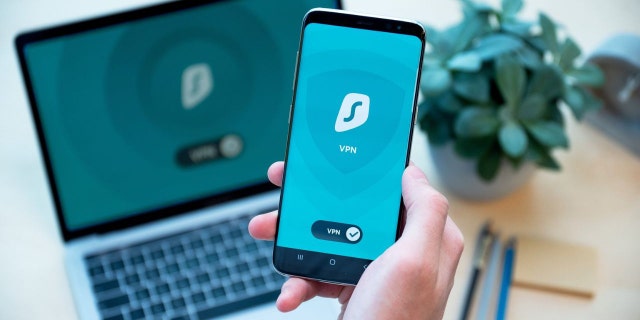 What exactly does a VPN do?
It encrypts your internet connection and masks your IP address, making it more difficult for hackers, advertisers, and other third parties to track your online activity or steal your personal information. It also gives you the following:
Ability to access content that may be blocked or restricted in your location
Protection when using public WiFi networks
Ability to appear as if you are located in a different country for the purpose of bypassing geo-restrictions on certain websites
MY BROWSER IS SUPER SLOW, HOW DO I FIX IT?
A lot of folks who work remotely have also discovered the advantages of using a VPN to keep their boss from always knowing their exact location.  As far as logging into applications and doing regular Zoom calls, a VPN prevents co-workers from knowing you might have jetted off to Europe or are sitting feet away from a tropical beach.   If you want to share details of paradise it is up to you – not your computer or smartphone.
Essentially, a VPN makes you all but anonymous or invisible while you are online. However, does it make you anonymous to viruses?
Will my VPN protect me from malware and viruses?
A VPN will not offer protection against malware and viruses. These threats are typically spread through email attachments, software downloads, and other means that do not involve the VPN connection itself. To protect yourself from malware and viruses, it's essential to use a reputable antivirus program and keep it updated, be cautious about opening email attachments from unknown senders, clicking questionable links in text messages, and avoid downloading software from untrusted sources.
NEW 'HOOK' MALWARE ALLOWS HIJACKING, REAL-TIME SPYING ON ANDROID DEVICES
For best antivirus software, see my expert review of the best antivirus protection for your Windows, Mac, Android & iOS devices by searching 'Best Antivirus' at CyberGuy.com by clicking the magnifying glass icon at the top of my website.  
Related: Free antivirus: should you use it?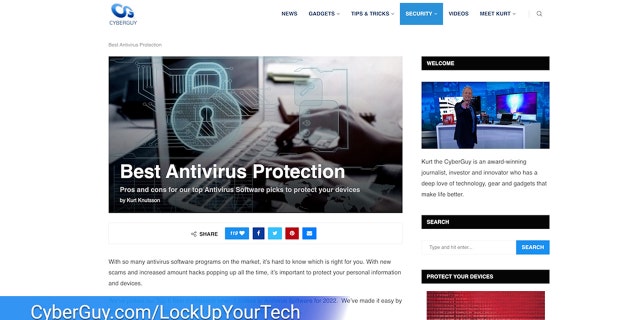 To invest or not in a VPN?
Whether or not a VPN is a worthwhile investment depends on your specific needs and level of concern for online security and privacy. In general, a VPN can be a useful tool for protecting your personal information and browsing activity from prying eyes.
For best VPN software, see my expert review of the best VPNs for browsing the web privately on your Windows, Mac, Android & iOS devices by searching 'Best VPN' at CyberGuy.com by clicking the magnifying glass icon at the top of my website.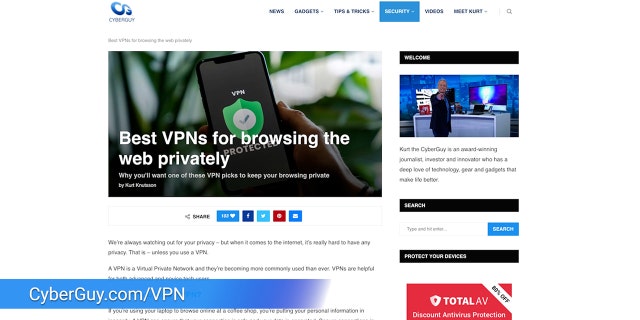 Have you invested in a VPN? If so, let us know which one you purchased and your experience with that product.
PAYPAL HACKER ATTACK EXPOSES CUSTOMER NAMES AND SOCIAL SECURITY NUMBERS
For more of my privacy and security tips, head over to CyberGuy.com and be sure to subscribe to my free CyberGuy Report Newsletter by clicking the "Free newsletter" link at the top of my website.
CLICK HERE TO GET THE FOX NEWS APP
Copyright 2023 CyberGuy.com.  All rights reserved.  CyberGuy.com articles and content may contain affiliate links that earn a commission when purchases are made.