ASUS brought a ton of new and innovative products to CES 2023 this year. Two of those were a creator-focused laptop with ASUS Spatial Vision tech for visualizing projects in three dimensions, and a buttery-fast 540Hz gaming monitor.
Professional creators have a rather long checklist in terms of what is needed in a new laptop. Among those features is a display with exceptional accuracy and wide color gamut coverage, a wide array of connectivity options, and muscular performance for intensive tasks. The new ProArt Studiobook 16 3D OLED, which made its debut at CES 2023, checks off every item on that list with another trick up its sleeve as well.
With many creators specializing in 3D workflows, the ProArt Studiobook 16 3D OLED gives game developers, 3D artists, animators, architects, product designers, visual FX artists, and many others the ability to see their work in 3D with ASUS' Spatial Vision Tech.
This exciting technology uses a special 3D OLED panel and eye-tracking technology to let the user see their work in 3D without the need for bulky glasses. When the tech is enabled, a set of images are created for each eye using real-time eye-tracking technology. These images are then directly projected through a microscopic layer of lenticular lenses built into the display panel to create the 3D effect. When a user no longer needs the 3D capability, they can simply toggle it off and enter 2D mode.
HotHardware's Chris Goetting was on the floor at CES 2023 and said he was shocked at how well the 3D technology worked. "Obviously resolution could be improved, but it felt very stable, and after a couple of minutes to adjust it didn't bother my eyes, and it was super impressive."
The ProArt Studiobook 16 3D OLED delivers professional-grade performance with an Intel Core i9-13980HX CPU and an NVIDIA GeForce RTX 4070 Laptop GPU. It can be configured with up to 64GB of DDR5 RAM and up to 8TB of speedy PCIe 4 SSD storage. We don't have pricing and availability info yet, but we expect to take a look at the ProArt Studiobook 16 3D OLED in the months ahead and should have more details at that time.
High Refresh Rate Gaming At A Blistering 540Hz
Moving right along, gamers will forever want a higher refresh rate monitor. Being able to see every detail in the heat of battle is a must for competitive gaming. ROG has consistently chased the highest refresh rates possible. With that in mind, ASUS unveiled its ROG Swift Pro PG248QP monitor with a blazing-fast 540Hz refresh rate.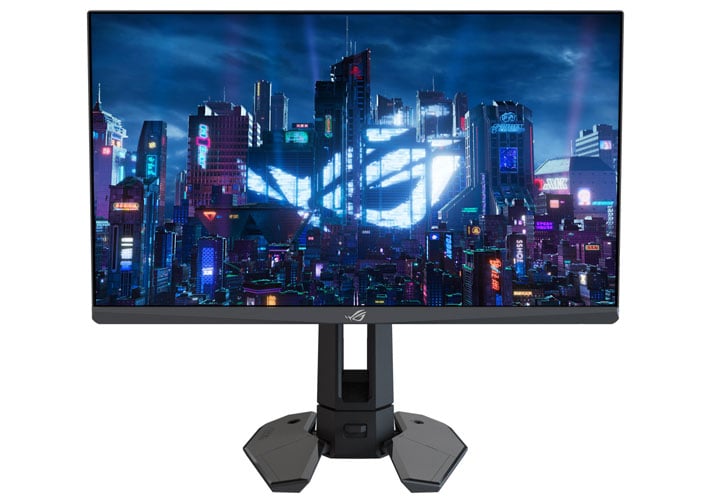 ASUS was able to overclock its 24.1-inch Full HD to reach an incredibly-fast 540Hz refresh rate enabled by a new Esports TN (E-TN) panel, designed for professional gamers. A G-SYNC processor removes stutters and screen tearing to ensure gamers can keep their eye on the enemy at all times. The built-in NVIDIA Reflex Analyzer captures end-to-end system latency so a user can tweak settings for the quickest possible reactions. The ESS Codec solution decreases audio latency as well, with the ability to enhance virtual surround effects, gunshots, and footsteps.
The stand has even received new innovations. The feet of the stand pop out and lock into place, providing a wide base for support or folding in for a more compact footprint on a desk. This allows a keyboard and mouse to get closer to the display and get the gamer in the zone.
Again, we hope to learn more about pricing and availability for the ROG Swift Pro PG248QP, soon.