We ended 2022 with a flurry of stories related to artificial intelligence. There was the story about AI writing Christmas-themed lyrics in the style of Iron Maiden, Rage Against The Machine and more. There was a glut of stories about AI-generated videos: plug some lyrics into some software, and Hey! Presto! A new video that hasn't cost you a cent. And there was the story about AI writing articles about your favourite bands. The future is here, and we're all out of work.
The latest AI-driven breakthrough is a little less sinister than the examples above, but it's probably more entertaining. It comes courtesy of David Bessenhoffer, a musician and filmmaker whose day job is Director of Video Content at a major university in Seattle, who's used Midjourney AI (opens in new tab) – a web application that produces images on demand – to portray a number of well-known musicians as they might have appeared as preschool children.     
"As so often happens with these kinda things, this idea sprung from another one," says Bessenhoffer. "For years, I've wanted to make a fake trailer to a non-existent, parody biopic about The Misfits, which would of course have scenes of Glenn Danzig being punished for watching too much TV ("You'll get twenty eyes inside your head if ya keep watching that garbage!") or being a spooky kid hanging out with wolves in his library, that kinda thing.
"That's a lot of time and money for a gamble on a joke, but when AI started making waves I remembered that idea, so I made a bunch of images, threw them on Facebook (opens in new tab), and for whatever reason they seemed to take off."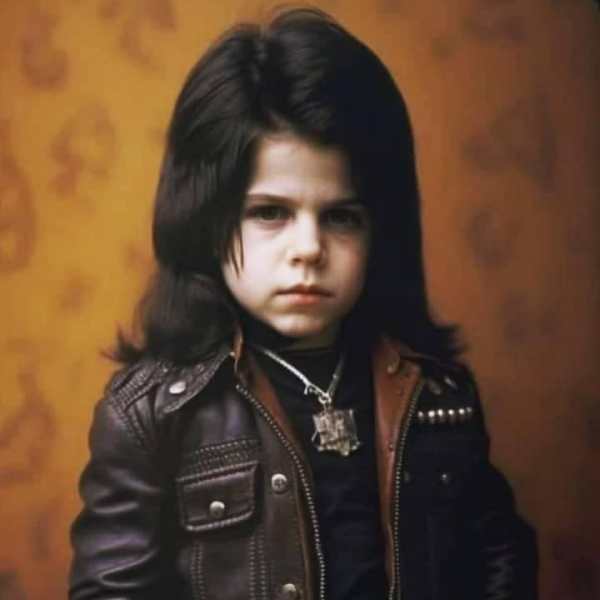 The results are as weird as they are fantastic. There's Lemmy, looking like butter wouldn't melt in his mustachioed mouth. Lou Reed, with the kind of crazy hair only the most gifted children can possess. Joan Jett, with a hint of menace in her eyes, as if she's just met you and isn't too impressed. A disturbingly well-muscled Iggy Pop. Henry Rollins. Shane MacGowan. Debbie Harry.
"I mostly wanted to capture their attitude, or what makes them iconic, but placed in a different moment in their lives," says Bessenhoffer. "Obviously, Lemmy probably didn't have a moustache at five years old, and I'm pretty sure Shane MacGowan had all his teeth as a kid, but it's fun to picture them as tiny future troublemakers. 
"Favourites? I have two. Lou Reed because he looks like such a know-it-all little shit but also because he's already cooler than any of us will ever be, and Iggy, because, I mean, look at that dude."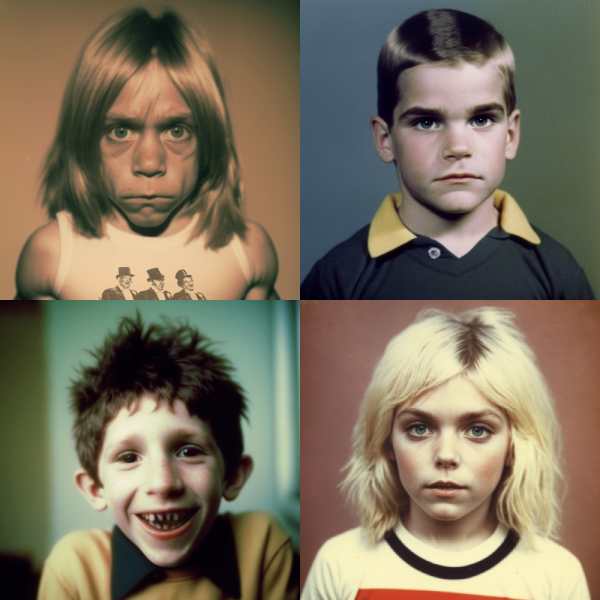 While it's easy to be impressed by the apparent wizardry of the results, Bessenhoffer is well aware of the murky precedent offered by many advances in AI, where someone can click a button and – using someone else's intellectual property and another's software – create an entirely new piece of professional-looking art, and in doing so putting the livelihoods of trained professionals at risk. 
"Literally anyone can do this," confirms Bessenhoffer. "To be honest, I still haven't made my mind up about this technology, and I was extremely resistant to even try it out in the first place. I'm even hesitant about calling it AI "art". Without getting too much into the very real concerns of artists, it's a weird space to be playing in right now when making imagery, but it's also an undeniably addictive one."
It's entirely possible that one day in the future – and it won't be too far away – someone will use AI to write a song and put together a group photos and an accompanying video, no one will be any the wiser, and we'll hanker for the days when AI was used for more innocent projects, like turning Robert Smith into a delightfully sullen child. 
The full gallery of preschool images is available on the Midjourney AI Facebook page (opens in new tab). For more of David Bessenhoffer's work, visit his website and Instagram page. We'd also recommend you check out two of his many bands, the post-punkish New Fangs and doom pop garage punk band The Hex Dispensers.